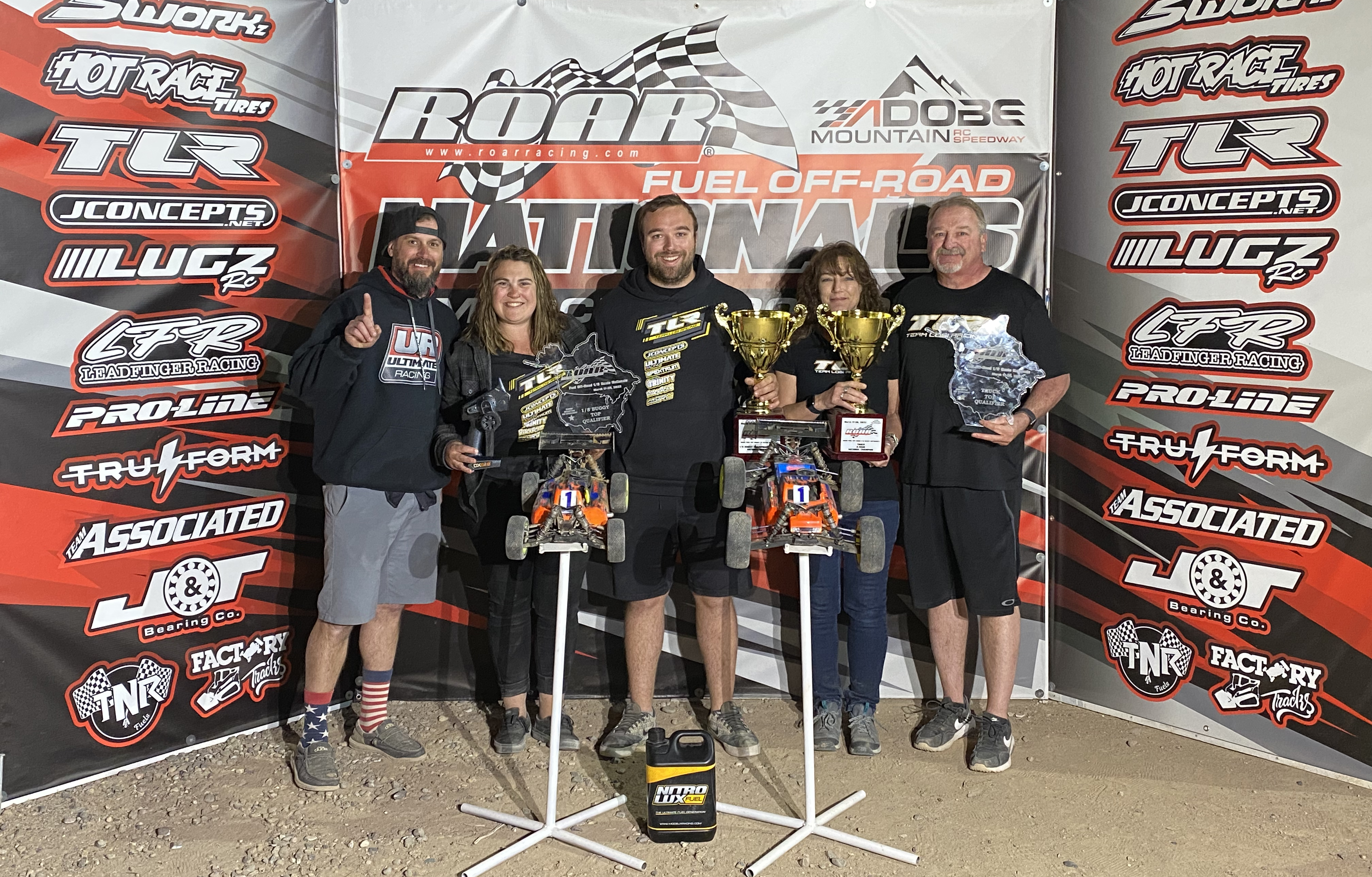 You may have heard the expression before "A family that races together, stays together." Well I have believed that as long as I can remember. The Phend Family is a perfect example of that.
You couldn't have wrote a more cinderella story than what we witnessed this past weekend at the 2022 ROAR Fuel Off-Road Nationals at Adobe RC Speedway in Phoenix AZ. Dakotah Phend put on a clinic and swept both Nitro Buggy and Nitro Truggy divisions winning his first even Buggy National Championship and his second Truggy Championship of his career. Neither win was handed to him by any means, the track was filled with landmines and character and the other 11 racers were not going to let him just walk away with the wins. Ryan Maifield literally put pressure on Phend for 60 minutes and came up just short losing by 4 seconds.
Dakotah drove his tail off and really was amazing for the entire race, however his pit crew (Mike Sontag and Chloe Phend) and equipment were also very much the reason for these victories. His wrench Barry Baker kept his TLR 8ight-XT and 8ight-X Elite in primo and reliable condition so they could weather the brutal track conditions. His Ultimate Racing Engines were on point and tuned perfectly so he could go one less pit stop which proved to be the deciding factor. Mike and Chloe were flawless on pit stops pumping that Nitrolux Energy2 30% race fuel into his tank which was also contributed to amazing fuel milage. He was also running the new JConcepts Recon treads which I assume you will see in the very near future available to the teams and public.
All in all it was a very great weekend for Team Beach RC & Ultimate Racing. We had Ultimate Racing Engines in 25% of the buggy main event and 2 in the Truck A main. We had 2 engines in the top 5 of buggy with Seth VanDalen finishing 5th, 3 BeachRC.com team drivers in the top 6 (Dakotah, Seth and Tebo). In truggy we had 2 engines in the top 5 with Cole Ogden finishing 5th and 3 Beachrc.com drivers in the top 5 with Tebo coming home in 3rd. Jermaine Robinson had a stellar run in 15u Buggy finishing a pretty close second to Tater Sontag running his Ultimate Racing M-3X and dad Marc Robinson coming home with a top 5 in the Masters 40+ class.
All of the Team Beach RC and Ultimate Racing competitors showed up and threw down this weekend. It was our most successful Fuel Nationals to date and we couldn't be more proud of the effort and results by each and everyone of you. We look forward to many more great victories and successes with all of our #BeachNation family.