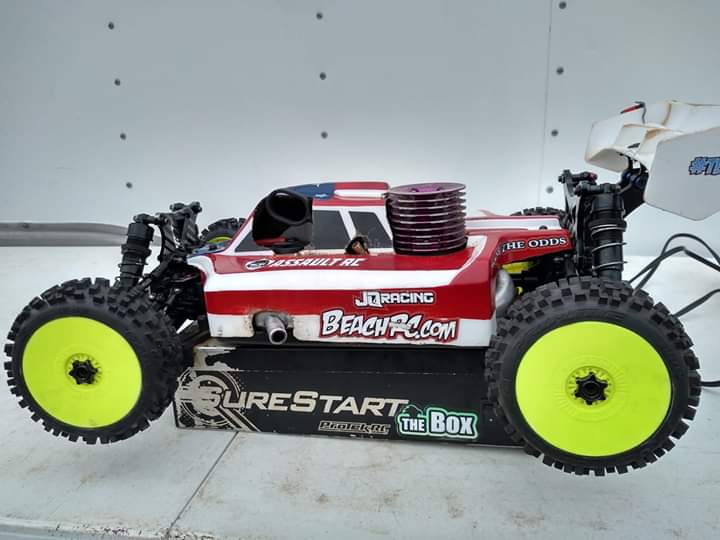 It's the month of October. For the White Whale and I the 1/8th scale racing season is starting to wind down. With only a few stops left we head to Sumter Raceway for their Oktoberfest race. This facility has quickly become my home track away from home. Michael Snyder and Thim Anderson, the guys that run the place have always welcomed me as one of their own. After getting the trailer set up for the next day's festivities, Mike offers to take me to dinner with his family. Loving free food and good company I take him up on this offer. Afterwards I nestle up inside the belly of the beast and call it a night.
Suddenly I wake up. Surrounded by the echo of eight weeks worth of rain hammering down on my oversized Moby Dick tin can of a trailer. I look out the door to see a couple inches of water everywhere. Usually this would mean the end to a race weekend but this track is known to suck up water like a sponge and I knew there was a set of Badlands tires in my stash of goodies. Back to bed I go to have sweet dreams of slinging muddy rooster tails with some dirt bike sized tires. They were sweet dreams.
The next morning was wet. The orange shirt track crew was already getting rid of puddles and making the track ready for the day. After only a one hour delay cars hit the track to practice and finish moving mud around. Usually I'm the first to hit the mud but this time I decided my car was to clean to get dirty and let everyone else mud up their cars while I mount up some big-lug tires. Passers by would stop and examine these big gnarly tires on my car usually with a smile. We would laugh and joke about what they would do but I knew and deep down inside they knew too.... They wish they had some!
Off we go racing the clock and my car is hooking up! I'm slinging mud five feet behind the car. Riding wheelies down the back straight I go hard into corners using the berms. As I rail the outside corners I can see marshals turn away from all the mud I was slinging. This is what off-road is all about baby! After three rounds of qualifying I end up in the second position. I was never the fastest car out there but I felt like I was.
There's always a good vibe here in Sumter. In between races people mingle about exchanging information and insight. They talk about car set-up, tire changes, how to hit a particular section of the track, how to tune an engine, and everything in-between. Customers shop in the trailer and always seem grateful that we bring a shop to the track even if we don't have what they need. The snack shack keeps all of the hungry racers fed and standard facilities are provided like restrooms, air-compressor, tire wash, and electric hook-up.
Main event time and I was feeling pretty pumped! Unfortunately I was not able to use my Badlands tires all day because the track came around to where it was just not practical anymore. However I had a set of my favorite tires for this track which is Pro-Circuit Hot Dice. Even the name is kind of bad ass! Those puppies hooked up from the second the car hit the track until I pulled it off.
My buddy and fellow JQ driver Joker Snyder and I would start in the top two positions. My game plan was to let everyone else wreck, flame out, lose a tire, run out of fuel, or accidentally drop their radio from the driver stand. That only happened to half the drivers so I still had to race the rest of them. Off we go and quickly I take the lead. Staying focused I knock out lap after lap and twenty minutes later a sweet victory! Took home an Oktoberfest trophy and a cool hand dipped coffee mug. Come to find out it holds two cans of beer!
Another great day of racing for beachrc.com and onto a really big weekend with the Dixie Nationals held at Beach Hobbies in Myrtle Beach, SC, the RCGP World Championship Finale in Southern California, and the 2019 S&B Championship in Piedmont, SC. Stay tuned...