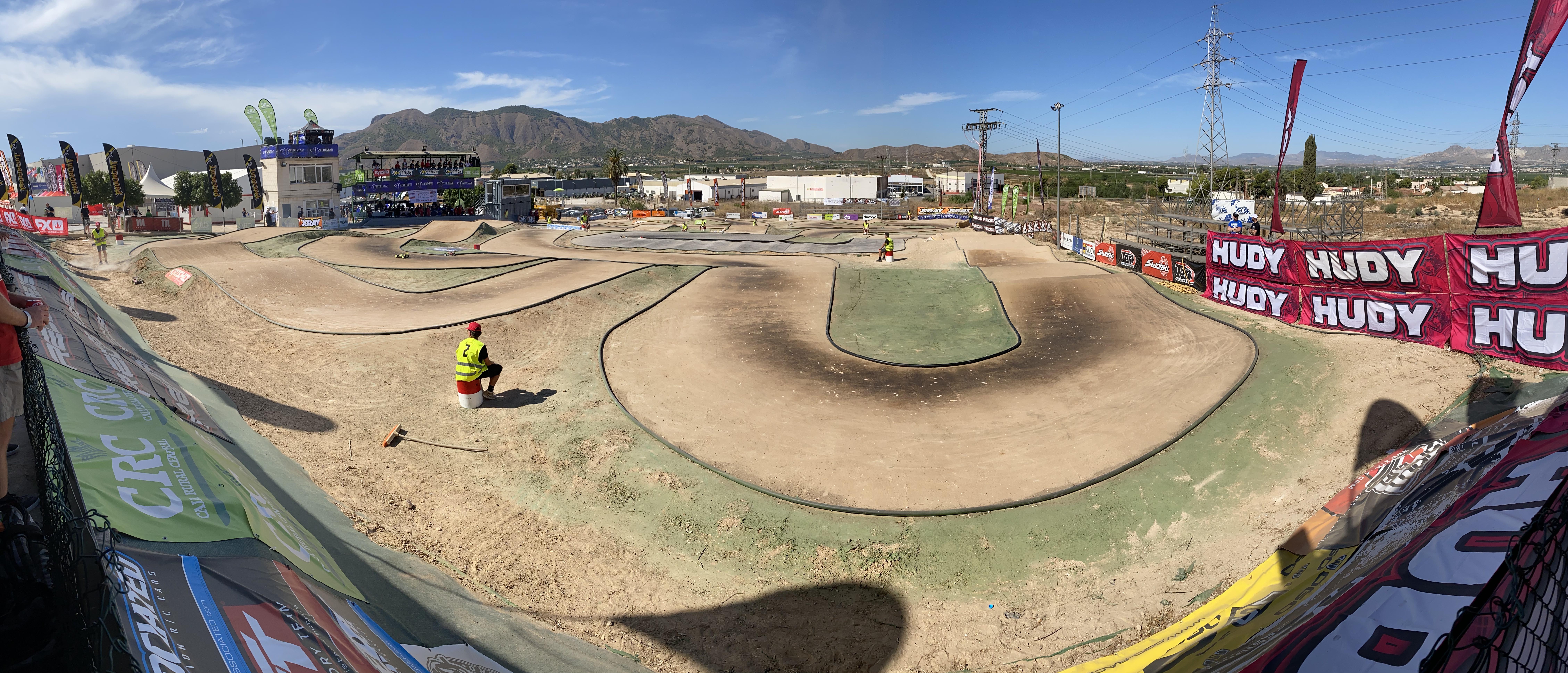 WHAT A MAGICAL WEEK OF RACING AT A MAGICAL FACILITY!
Who would have thought that in nearly short 9 years and I would be flying abroad to visit what could be the greatest 1/8 facility in the world to attend the most prestigious race that takes place every 2 years. If you were to have asked me this question when I opened up Beach RC or even a few years ago I probably would have laughed and said, "Man, that would be cool but yeah, I doubt it....". Not only did my wife and I get to make this trip but people actually know who I am over there which is also very humbling and somewhat dumbfounding.
I had been planning this trip for some time as one of our biggest vendors is based in Barcelona and I wanted to make this trip to not only see this event and facility but visit Modelix and get to be present with them and figure out ways to take that side of our business to another level and I am pretty sure we accomplished that. I can't thank the Modelix family for welcoming me and my wife with such great love and hospitality over the entire trip.
I can't also explain the time and effort that has gone into this facility. It was better than advertised when I finally got onsite to see this sculpted piece of art that the Baldo family created. The attention to detail and time put into this facility goes unmatched to anything I have personally seen to date. My hat is off to them and their crew for such a wonderful event and all their hard work.
Like I said before this was my first World Championship experience and I really didn't know what to expect onsite. Yeah sure I have watched Vegas in 2016 and Australia in 2018, but knowing what I needed to know prior to leaving and getting there was very minimal and it showed when we arrived. I figured Tiff and I would be able to waltz in and hang out with no issues but boy was I wrong. They had security on lock down at this event and thank god I was able to get passes from my people at Modelix or that would have really sucked. At first I was bummed that this was the case. How to we grow RC when we won't even let people in to see first hand of this amazing event and what kind of skidmark would it leave mentally to someone who may have wanted to do this or see it but got turned away. But it occurred to me, this is the World Championships. Unless you were local to the area for the most part you weren't just going to stumble upon this event and want to get involved. After talking to some people it would have been somewhat of a security threat had they let anyone in and with all the work and money the teams had invested their could have been theft or vandalism so it was better to error on the side of caution than be open free willy nilly.
On to the event.
Lets just say, IFMAR/EFRA rules are different than what we are used to. They have strict rules and they stick to them come hell or high water. The worlds is no joke when it comes to being precise. The amount of times I heard "USA Team Manager to Technical Inspection (in my best euro accent)" is unreal. Of course I heard other team managers called but nothing like the US manager was which is an entirely different story for another day. You really have to be on your game as a mechanic, pitman/pit woman and driver to be successful at this race without a doubt. Kudos to all those who pushed the limits, made it through and didn't have any issues. The organization is great. You know exactly when you were going to practice at or when your races were to a T. They do not wait on anyone or anything so best be ready. This was the best organized event I have been to next to the Reedy race and maybe Masters of Dirt ;)
The racing was always intense and you are always under a microscope when it comes to driving. They have officials in multiple spots calling rough driving, letting you know who is in front of you, behind you, slower, faster and so on. The one thing I heard a lot of and I really thought was unnecessary was when they told 2 or more drivers to keep it clean over and over again. I can see that being the case in seeding practice and maybe in some of the lower groups of qualifiers but when I hear it in the A, B or C sort of the best in the world I think more than anything it is highly distracting and not needed. Those guys can race within an inch of each other and never touch. I am pretty sure they know what they need to do without being told... I probably only heard them have to call for marshals 3-5 times the entire time I was there but I wasn't there for every round of every day leading up to qualifiers but it seemed to me that the drivers respected the process and kept things going well, however they surely would have been penalized harshly if they weren't on the same program. I was not privy to the team manager meetings but they did have them daily to inform each nations drivers as to what was going on and what they were doing. I feel they were pretty good at communication from the outside looking in.
The racing itself was amazing. The top 30-40 drivers in the world competing for this title were so fun to watch and to see how they handled the elements, track conditions and everything else I was truly impressed and loved taking it all in. At the end of the day there were 3-4 drivers who had the pace in the finals that could have won it if things had gone their way but didn't. Davide Ongaro is one amazing driver and hell of a kid. He comes from a great family and he is dedicating his life to this business and in the grand scheme of things, he deserved it and he had to earned it 100%. One little bit of controversy at the conclusion of the race was the Ongaro Family had already had 2X World Champion shirts made in the event he won this race. I heard many comments as to this and I would say most people are not happy about it or thought poorly of the decision to do it. The question that was asked of me was: Is it Confidence or Arrogance? What do you think? I have my feelings about it but that is all it is, an opinion. I heard multiple times before I left for this race that there would be no Americans in the Final. Not only were those people wrong, had Dakotah had just a little more luck and or made the right tire decision in the Semi I think some results could have been different at the podium level. The Phenom was on fire and ended up turning a 49.3 before it was all said and done. We had multiple Americans in the final and not only in but with a chance to win. All in all I think the event went off with out a hitch and for the most part other than some tech issues there were no real controversies to really speak of. The entire event was very well planned out from opening ceremonies all the way to the awards banquet. However the awards banquet needed a lot of work. Unfortunately with the amazing level of planing and execution of the entire event, the lack there of in the banquet department really turned some people off. But mind you, this to me does not diminish the rest of the event or how the event ran or the details that were implemented to make it so rad and so great.
Finishing Thoughts:
The sad part of this entire event for me was the fact that the same man who I feel is maybe the biggest problem we have in organized sanctioned race events in the USA showed his true colors for the most prestigious rc event in the world. Jeff Parker who is the ROAR competition director as well as the stand-in IFMAR President was not even present at the IFMAR Worlds. I would argue he is not present even when he is actually physically at a ROAR National event however at least we see him there. He handed off most of his duties to TLR's Team Manager Thomas Tran, and from what I saw it really took away from what Thomas was actually there to do at this world championship with his team(s). He owes Thomas an apology with a huge token of gratitude and honestly he owes every ROAR member and the USA Worlds Team and apology for his lack of shits given at these World Championships. I feel it was a slap in the face to the American competitive RC racers who spent the time, money and effort to get to this event and not show up to represent them and their best interests. Not only that there was not a representative from ROAR onsite to go to batt for the American drivers when needed and I will tell you, it was needed many times. ROAR members should demand more from the committee and expect more out of them here domestically and internationally. This was more than likely the most competitive and biggest worlds we have seen to date with all things considered and the IFMAR president (IFMAR is the governing body of the World Championships) was not even there. Guess where you will see Jeff Parker...? That's right, you will see him at the large scale world championships this weekend where they have 61 entries and 59 drivers. Hows that for priorities my friends? Well, just like all politics, if we keep doing the same things we will get the same results. I will start planning my strategy to do my part no matter what that is moving forward but this is ridiculous and that is a fact.
I'm signing off. Congrats to Davide Ongaro, Team Associated, AKA, O.S. Engines, Sanwa and the entire World Championship winning team. You guys killed it and got it done when it mattered the most. Thank you everyone for following my silly vlog (Found Here) and thank you to my incredible shop employees who took care of everything while I galavanted around Spain for 2 weeks making memories I Will never forget!