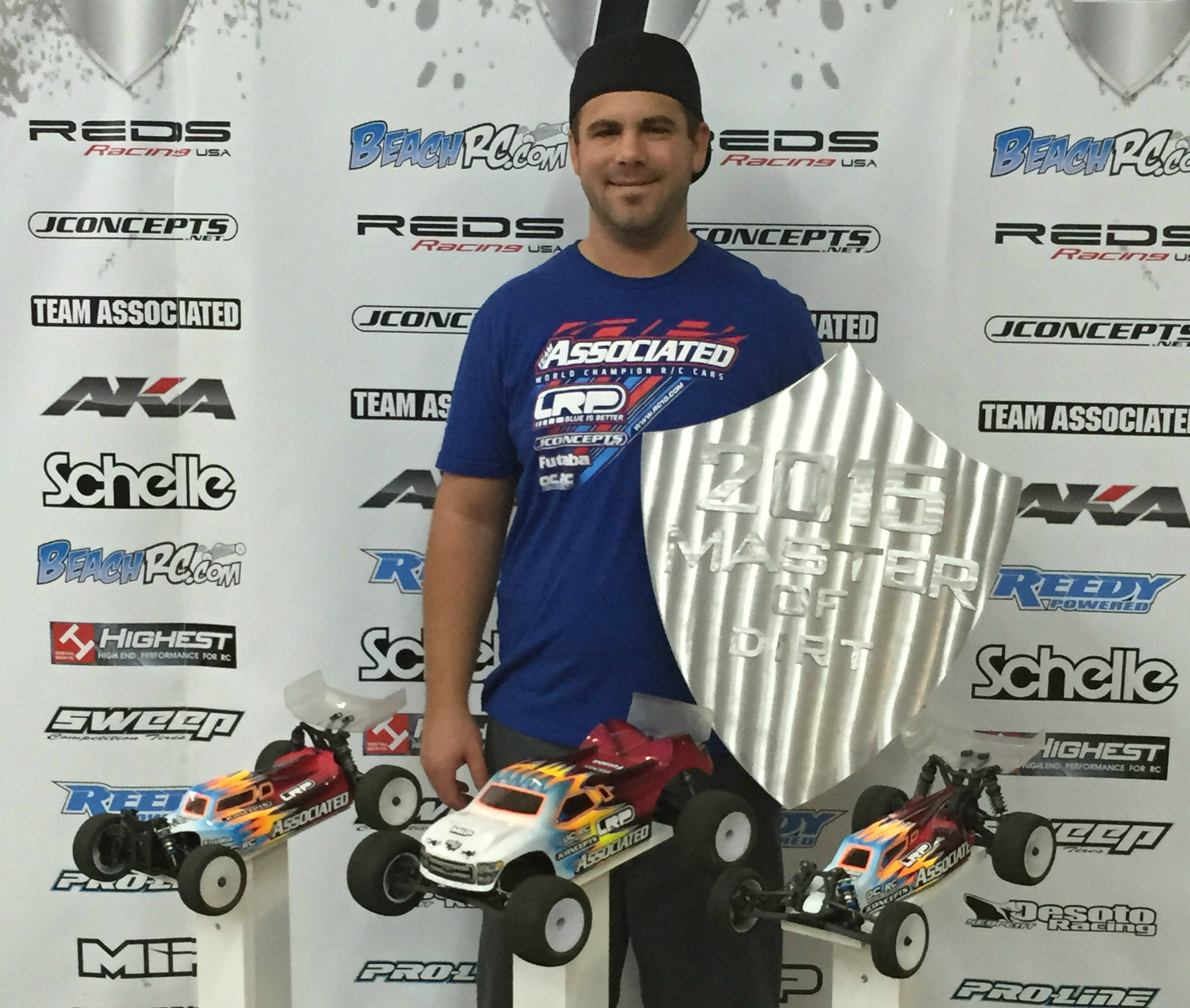 The storyline of the first ever Masters of Dirt presented by Reds became immediately obvious; could local rising star Griffin Hanna hold off the proven talents of former world champion Steven Hartson to earn the first ever Master of Dirt title.
Just a week prior BeachRC's legendary Carolina clay layout was flattened, as the ever evolving venue played host to a dirt oval race, The Dixie Nationals. However a fast and flowing off-road layout had been carved out with plenty of whip worthy features available for the racers to test their equipment and skills.
In Saturday's qualifying Griffin Hanna's feverish pace proved too much for the traveling Hartson to deal with. Griffin's Serpent kits on JConcpet rubber were able to clinch top honors in Pro 2wd Buggy, 4wd Buggy, and Stadium Truck. Hartson would settle to start in the 2nd spot in those three classes, but with double 10 minute A-mains on the menu for Sunday everything was still up for grabs.
Prior to the start of the A-Mains on Sunday Bellgate Distributing in conjunction with Highest RC servos put up $300 for a winner take all sprint between the top 8 qualifiers in 2wd buggy. To add to the excitement just prior to setting the starting grid BeachRC's CEO Brent Densford informed the racers that the grid would be determined by drawing numbers. Red's Racing team driver Eddy Cordoba was last to draw and the wait paid off as he drew the 1st spot on the grid. However even starting off in the middle of the pack wasn't enough to deter the young Hanna as he picked up right where he left off taking the big check in dominating fashion.
In all six of their shared mains Griffin Hanna used his TQ advantage and blazing speed to jump out to early leads. However Hartson's rock solid consistency proved to be the winning recipe. It seemed like Hanna had more speed, however minor miscues were all the former World Champ needed to take the wins, sweeping the three premier classes to take the first ever title of "The Master Of Dirt."
JConcepts Stock 17.5 Buggy turned out to be the MIP Products showcase with teammates Rudy Rico and Matt Olsen finishing first and second in all three qualifiers and backed it up finishing in the same order in the mains. Thus proving once again why MIP's parts are featured on in so many stock racers setups. Local racer Austin Odum was able to win the battle with the rest of the field for third place honors.
It was all Matt Olsen in his heavily modified MIP truck in the MIP 4wd SCT class.
The 2wd SCT class came down to a battle between young Alex Mueller and Florida's Landon Lewis.Lewis held the lead through the early part of both races, but surrendered it at some point to Mueller in both mains giving Mueller the overall victory in the Kyosho America 2wd SCT Class.
The Reedy 2wd Open MOD Buggy class had a strong entry base and was defiantly going to be a show for all the spectators to see.These are the up and coming racers who are striving to make it to the top but just haven't broke through yet.Walterboro South Carolina's Austin Odom set the tone taking the TQ and then sweeping both A Mains in his Hobby Pro PRS1 buggy.
The Sweep Racing Novice class is always fun to watch as it features the fun in RC and the newly involved racers to our hobby.Young Alyssa Garcia took her bone stock Serpent Spyder and drove her way to a overall victory with a 1st and 3rd place finish.
The First Annual Masters Of Dirt was defiantly a success and looks to be a new staple event for the indoor season.The date for the 2016 event will be posted and released in coming weeks allowing plenty of time for racers to make plans to travel to sunny Myrtle Beach for the event.
For more information or to keep up with the M.O.D. news like the Event Facebook Page https://www.facebook.com/Masters-Of-Dirt-RC-Championships

The highly contested AKA Pro 2wd Buggy class that Griffin Hanna TQ'd on Saturday. But in the end Steven Hartson took the overall win edging out Hanna.
1) Steven Hartson
2) Griffin Hanna
3) Rudy Rico
4) Matt Olson
5) Landon Lewis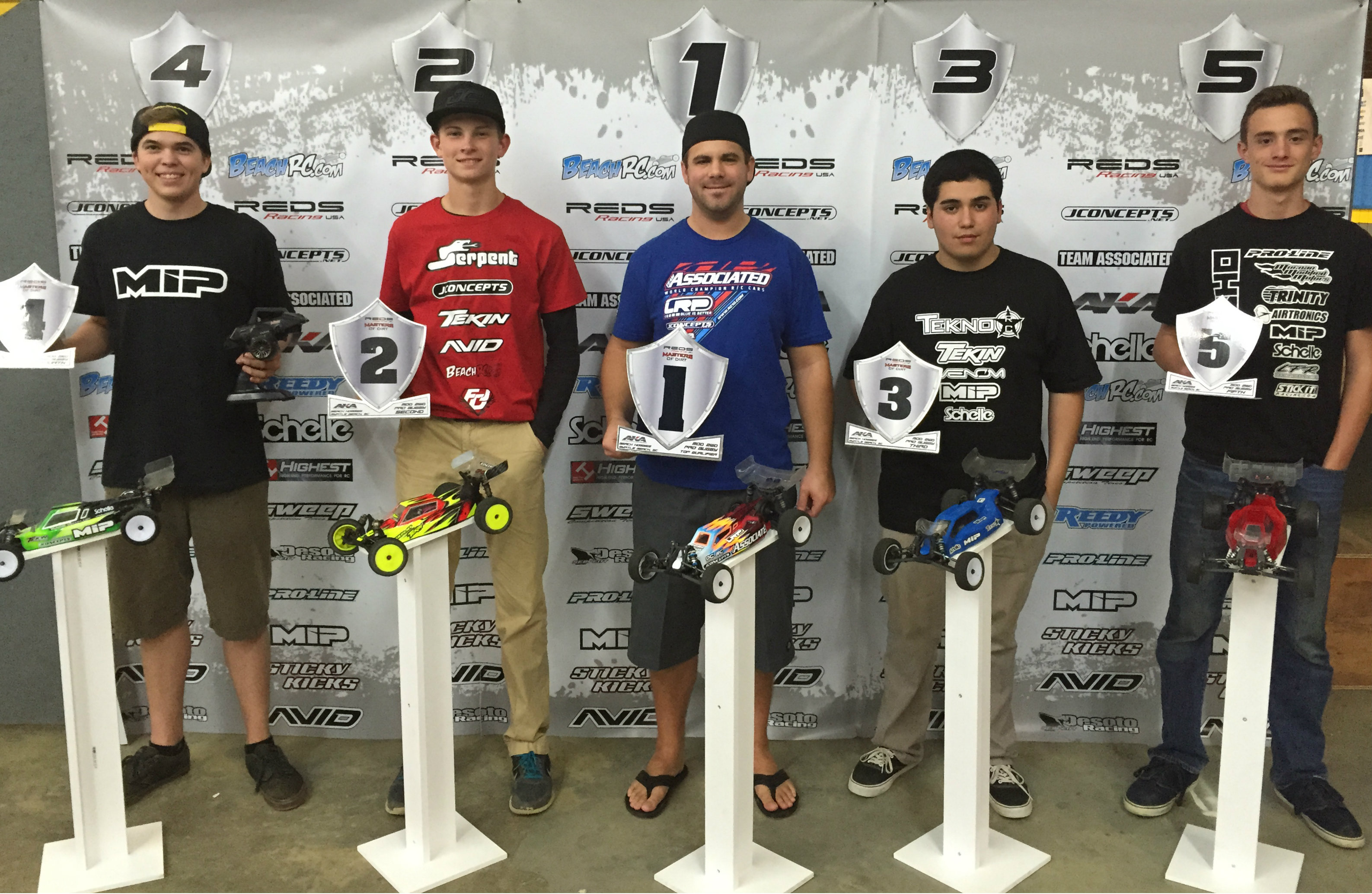 The Pro-Line 4wd Buggy class was not only the largest class but one of the most contested classes of the weekend. Hartson pulled it off but not without lots of pressure from TQ Griffin Hanna.
1) Steven Hartson
2) Griffin Hanna
3) Rudy Rico
4) Matt Olson
5) Landon Lewis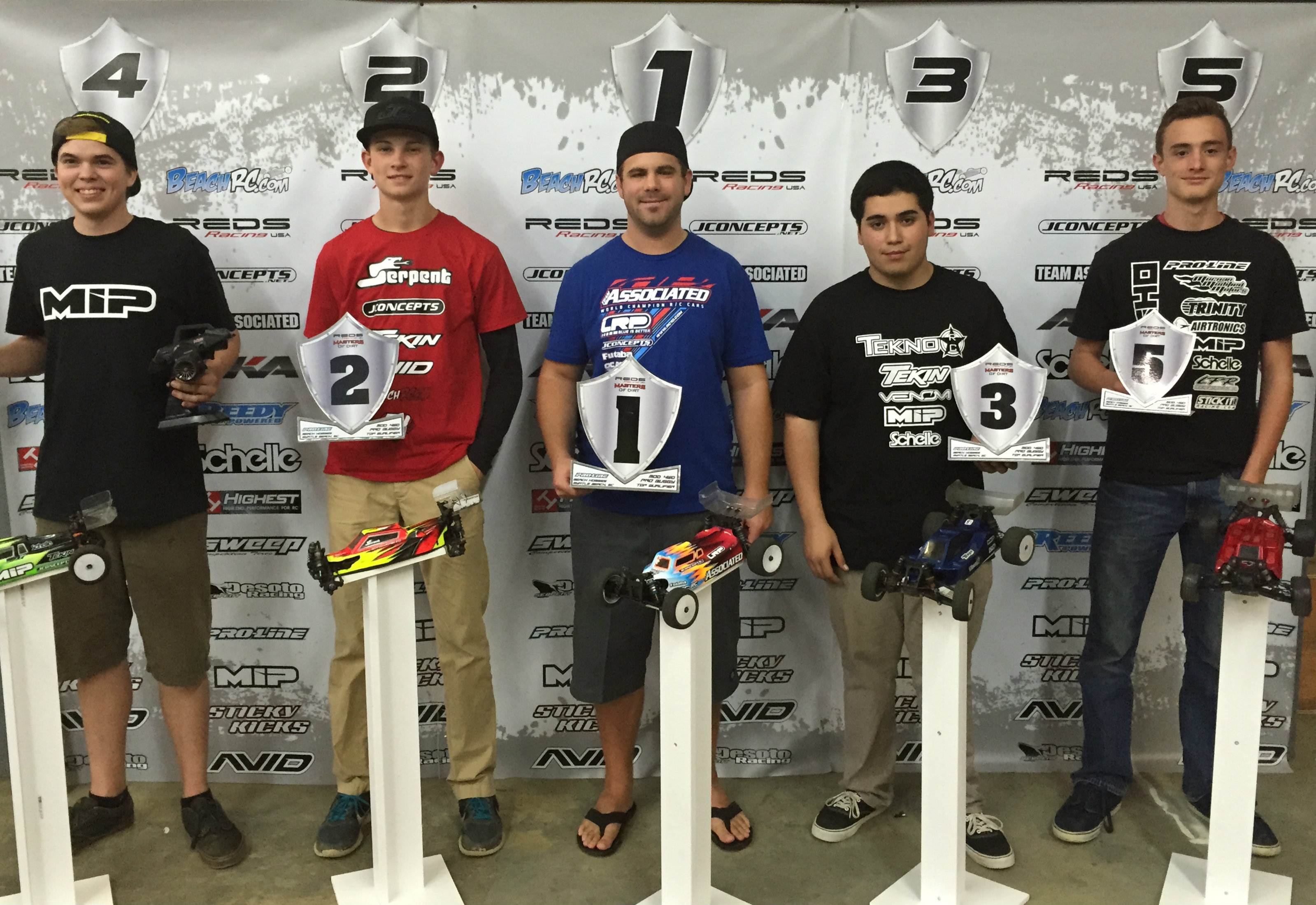 Team Associated MOD Stadium Truck was a battle but AE's very own Steven Hartson comes out on top and wins the class winning both A Mains.
1) Steven Hartson
2) Chris Pace
3) Alex Mueller
4) Landon Lewis
5) James Heaton
Reedy Open 2wd MOD Buggy as dominated by Austin Odum. It was great racing behind him but no one had anything for him.
1) Austin Odum
2) Scott Dixon
3) Corey McElveen
4) Scott Belus
5) Shane Traylor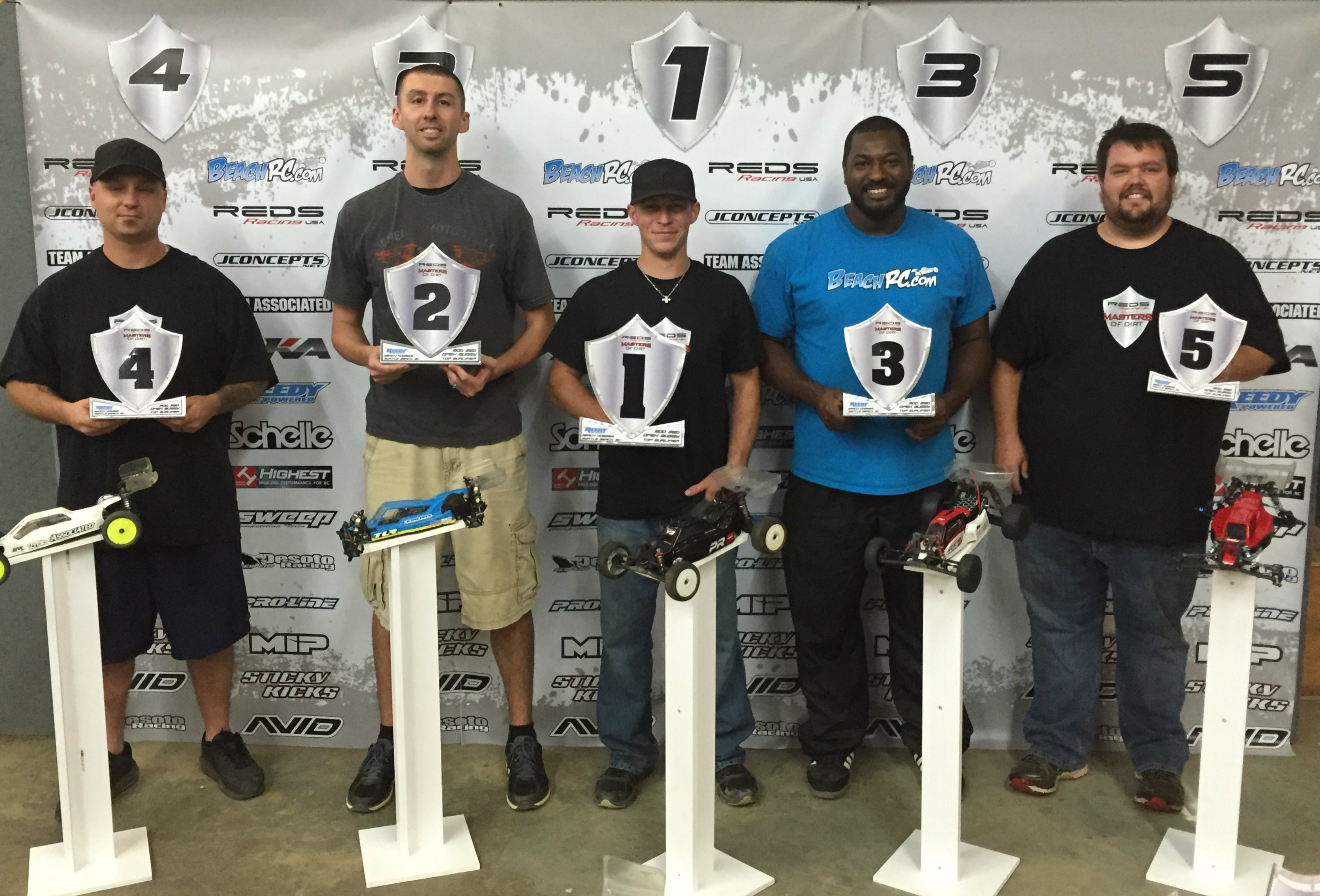 The Kyosho 2wd Buggy came down to a 2 man race for the win. The young Alex Mueller ended upon winning both A Mains holding off he's charges by Landon Lewis in both races.
1) Alex Mueller
2) Landon Lewis
3) Joe Ellis
4) Kevin Thomas
5) Benny Wilkerson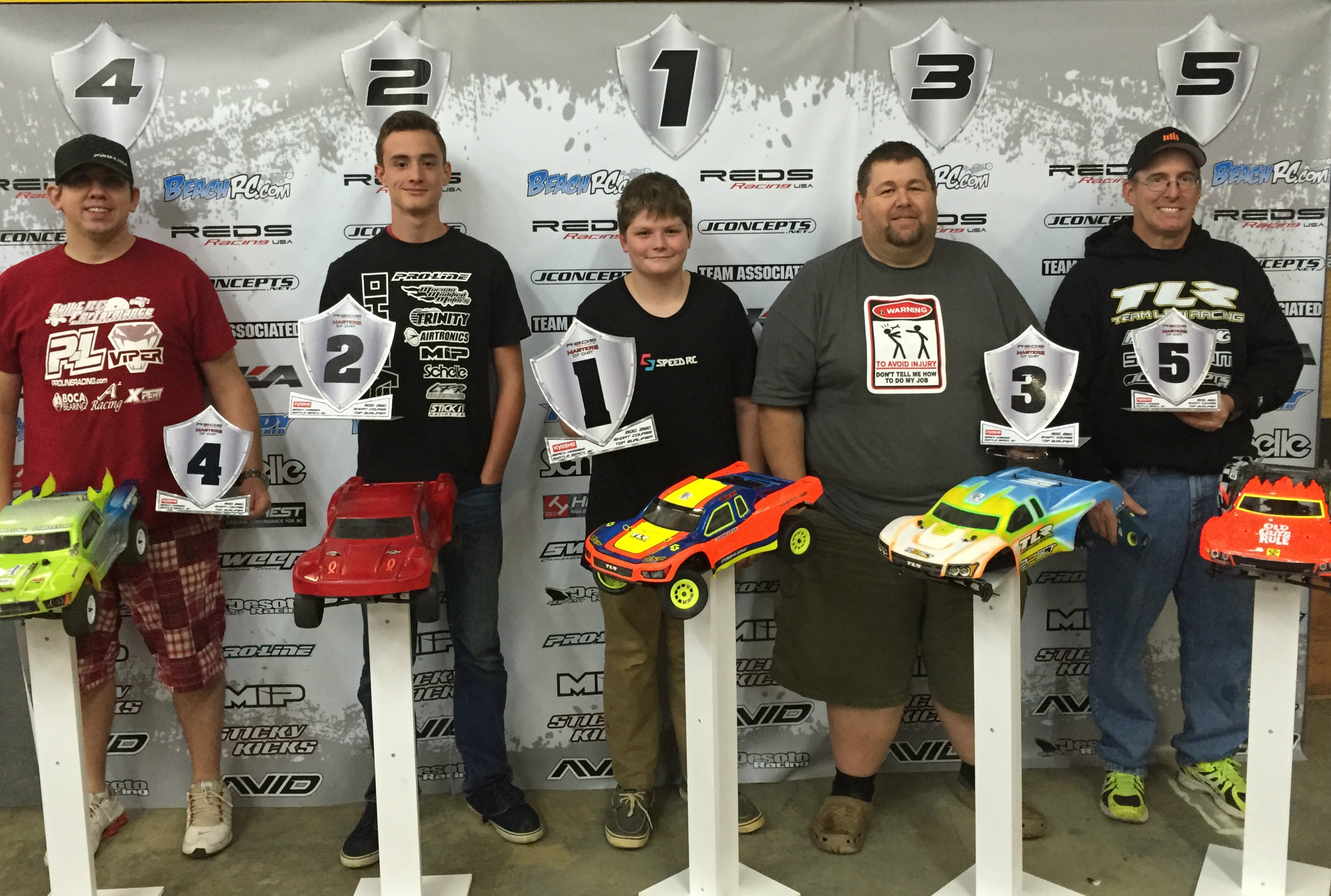 MIP 4wd SCT was very one a good one but MIP's very own Matt Olson ends up the overall winner.
1) Matt Olson
2) Kevin Thomas
3) Tony Pavone
4) David Gallagher
5) Chris Fail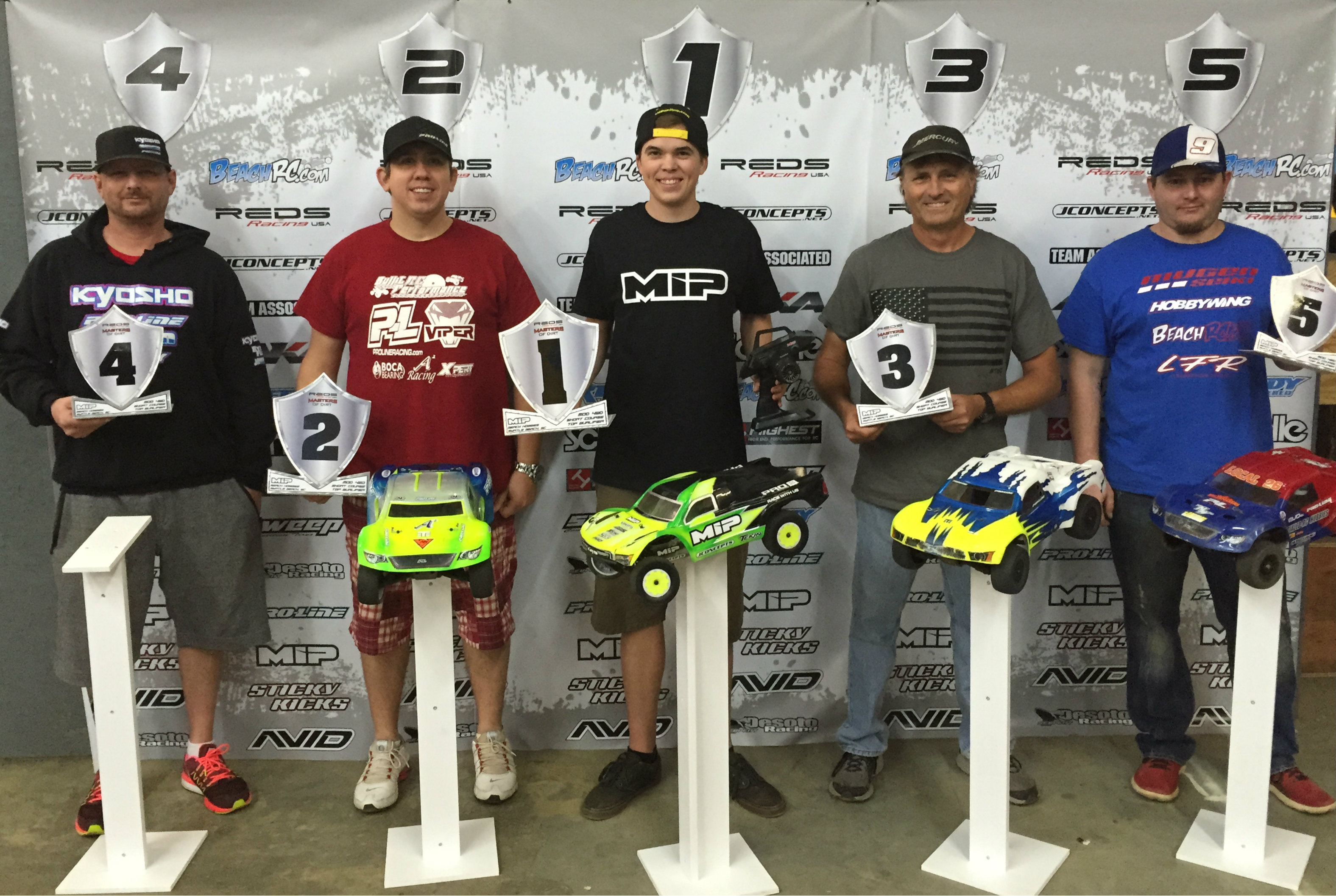 Young Gun Rudy Rico takes the TQ and both A Mains to be the dominate force in the JConcepts 17.5 Stock Buggy class.
1) Rudy Rico
2) Matt Olson
3) Austin Odum
4) Jamey Pahud
5) Raul Garcia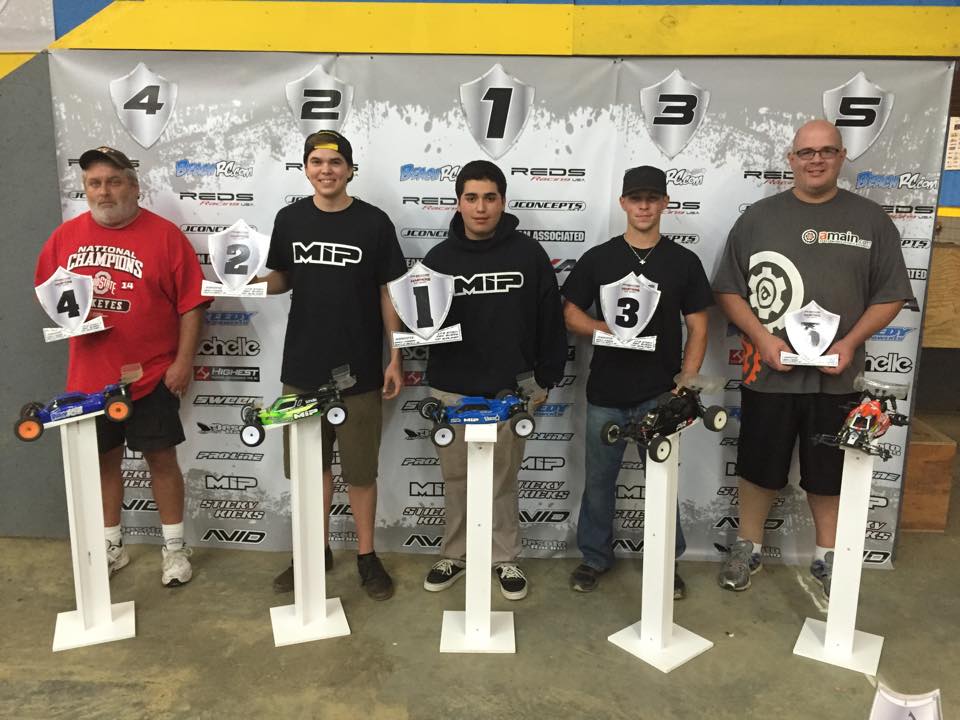 Amazing job by the Sweep Racing Novice group of racers. Here are the top five overall.
1) Alyssa Garcia
2) Megan Densford
3) Bryce Jeffery
4) Tiffany Densford
5) Beau High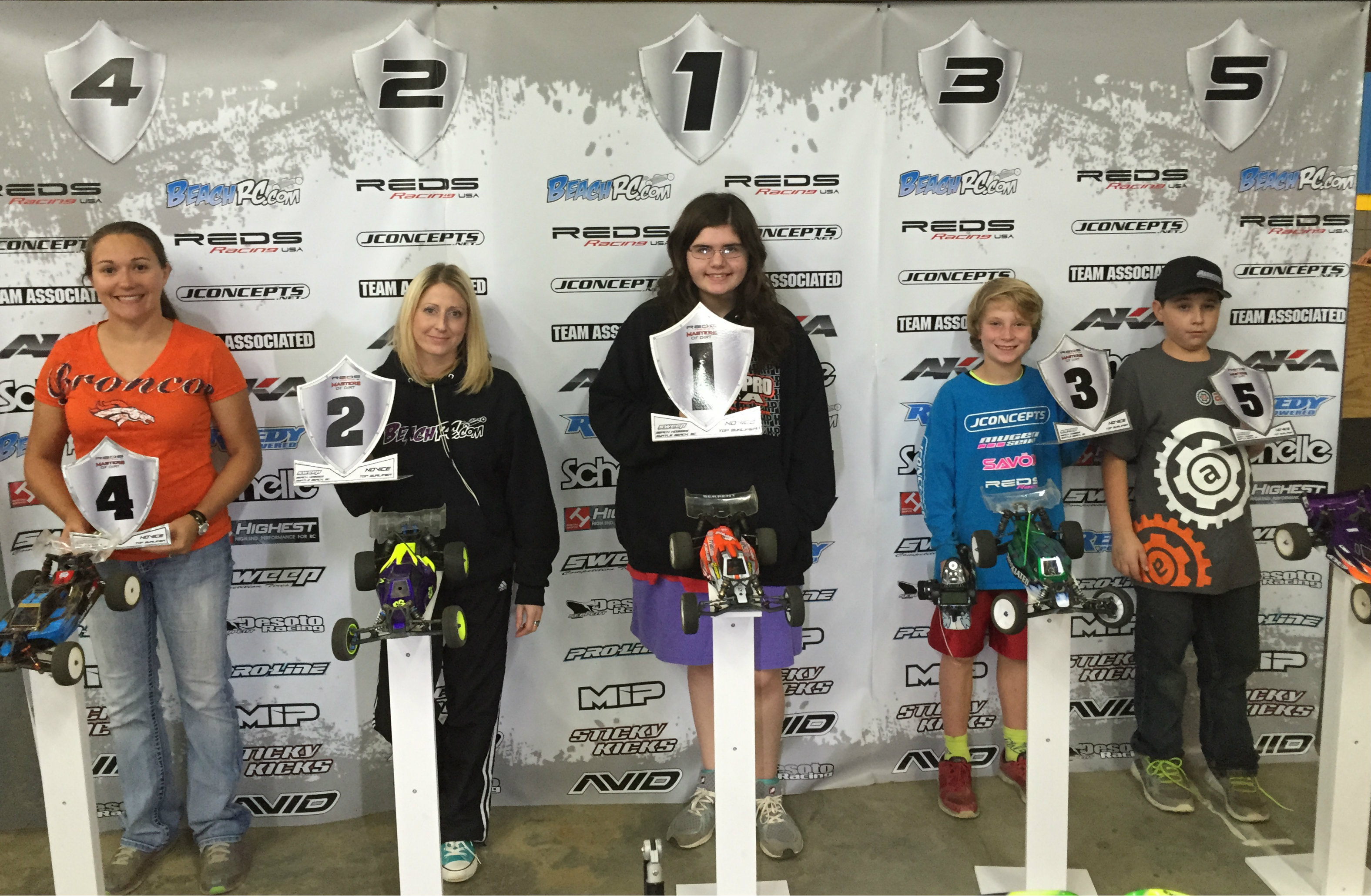 Saturday's Overall Masters Of Dirt Top Qualifiers
(L-R) Matt Olson - MIP 4WD SCT, Rudy Rico - JConcepts 17.5 Stock Buggy, Griffin Hanna - AKA Pro MOD 2WD Buggy, Pro-Line 4WD Buggy, Team Associated MOD Stadium Truck, Austin Odum - Reedy Open 2WD MOD Buggy, Landon Lewis - Kyosho America 2WD SCT, Megan Densford - Sweep Racing Novice.