If you asked me as a child what the world would look like in the year 2020, I'm positive that I would have talked about hover boards, flying cars, and the possible return of dinosaurs. Obviously my influence from the movies, Back To The Future, Jurassic Park, and The Jetsons cartoon would lead me to believe that we should be eating meals from a dehydrated pellet by now. A small pill, that after pouring water on it, would eventually turn into a steak and potato. This year hasn't quite turned out the way that I would have imagined but I do know a little something about flying car's.
Stuck in traffic I take in my surroundings. Next to me is a cute little red truck. Having the muffler removed and an extreme lift kit on the front suspension, with the rear end dragging, this a clear example of the Carolina squat. I look up his Instagram handle clearly posted on the rear window and shout him out some props. I too have a squat going on with my truck but there is a slight difference. My squat is from hauling a twenty eight foot White Whale and my loud truck is growling, not because of poor muffling, but because of power! And America.
Captain Ahab and the White Whale set sail on the asphalt seas once again. The monstrosity on wheels, a rolling hobby shop, is headed to S&B R/C Raceway for the second round of the Southern Off-Road Series. Proving to be one of the premier series in the South-East, beachrc.com was proud to become a sponsor for their events, and of course, we had to send the Albino Beast to see what all the hype was about.
We showed up late Thursday night. The race wasn't until Saturday but there were people there already with trailers and RV's camping out. This was going to be big. Nervous about whether I packed enough supplies or not, I do an inventory of the my essentials. Beer. Check. Beef Jerky. Check. I should be able to make it through the weekend.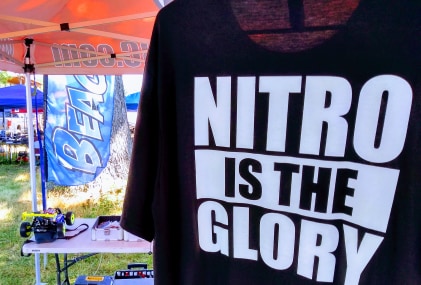 It's been six years since I got into the hobby of racing radio-controlled car's. It's funny that at forty years old I would find a hobby that essentially would change the trajectory of my life. Who would have thought that I would end up playing in the dirt with a toy car for a living and traveling around to different dirt mounds to play with others and make Braaap sounds.
The sound of large trucks and long trailers wake me up on Friday morning. I roll out of the belly of the beast to be greeted by the Burnette's. The father and son duo are partners with Mark Moon in organizing the S.O.S. series. There's a train of vehicles rolling in and I need to finish setting up shop. Making the beast look beautiful is hard work but it all pays off in the end. I put a couple tent's here, maybe a few thousand parts there. Boom! We're ready to roll.

All of Friday was busy and the Whale was doing business. I got a chance to take a picture of the track. Mentally I did many laps on the layout while looking at the track on my phone. Feeling quite confident that I have this track dialed I decide there was no need to physically put my car on the track and run some practice laps. I got this and the JQ car is looking to clean to dirty her up on real practice.
Saturday morning. Waking up I'm feeling confident that I know how to party but I have to pee. The bathroom is half a lap of a high-school running track away. Wishing that I had a hover board right about now I find an empty bottle of Gatorade and fill it half full Trucker style. Aaaah, much better! I'm just gonna set this bottle right here for now and throw it away later. After opening up the trailer and getting it all set up I go to get the bottle of resurfaced Gatorade and it's gone. Who took my damn Gatorade?
In my six years of racing scale Motorsports I have never been to a bigger one-day race. About three-hundred entries there were. The competition was stacked. Even the novice class had twenty some odd entries. I should have been in that class. They wouldn't let me in, something about experience or something. Have they seen me drive yet?
The day went smooth and drivers were put to the test by the Bobby Moore built track. There is a section in the middle of the track where cars would have to jump onto a table-top, jump onto another table-top, and then jump off. This section was tricky but if you hit it right there was pure satisfaction. I felt that once or twice and then the rest was carnage and complete failure. I loved it.

S&B R/C Raceway was a fantastic host venue and Jamie is a champion at what he and his crew does to their facility. Anything about my racing is pointless to talk about because I sucked. (Children, if you're reading this, practice more.) I did, however, explode my body onto the overhead loop and manage to race the main with no outer shell. Pretty bad-ass and this may become a new style for me.
When the pro's race in the A-main I like to watch and appreciate the speed those drivers have. Every now and again someone catches my eye. During the pro nitro A-main a young Cade Brunette was the car that I just could not take my eye off of. Watching him drive his car with such speed and precision was the most memorable and enjoyable moments of this great weekend. The kid has tons of potential and I can't wait to see him grow.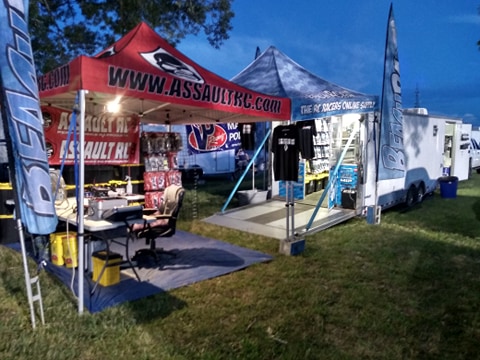 It feels great to be back! The world is so much better with R/C in it. beachrc.com will be having a big month in July, if we survive the dust storms, with the Sumter 4th of July race, PNB, and round 3 of S.O.S. August we'll have the meteor strike super sale, September Alien invasion decals, October earthquake special, November he's not your President extravaganza, and December "The Dinosaurs are back Deal!". Also cool releases and a bunch of R/C stuff online and in shop. Stay tuned!
Your average frick'in Joe