Arrma has given the Talion 6S BLX Truggy and the Outcast 6S BLX stunt truck the EXTREME BASH premium treatment! These two vehicles are ready to reach crazy speeds, hit jumps and stunts across any surface. The EXTREME BASH series are made for power, speed and are incredibly durable to withstand any beating. The bottom of the chassis says, "If you can read this, send it" and it means it. The Talion and Outcast can withstand extreme jumps and punishment due the EXB toughened suspension and multi-terrain, belted dBoots tires. These are ready to run right out of the box from Arrma and in terms of getting you out there and having fun these are king.
First up let's check out the Talion and it's new features!
The TALION™ 6S BLX Extreme Bash Speed Truggy blasts over dirt, asphalt, and grass on tough MT wheels outfitted with multi-terrain, belted dBoots Katar tires. Arrma listened to the community and went with the upgrade to these tires to avoid the issues the basher community was having before. It's speed and unstoppable power comes from its new Spektrum Firma 4074 2050Kv Brushless Motor. With its DX3 DSMR 2.4GHz radio system, SR6110AT receiver, and Firma™ 150A ESC, this model also provides the benefits of Spektrum AVC (Active Vehicle Control) and Smart technologies straight out of the box. A small but welcome upgrade is the front bumper now present on the Talion when there use to be no protection to the front of the car. The Talion is a beast for every skill level and you can grab yours at HERE:
Arrma Talion 6S BLX Brushless RTR 1/8 Extreme Bash

Add to Cart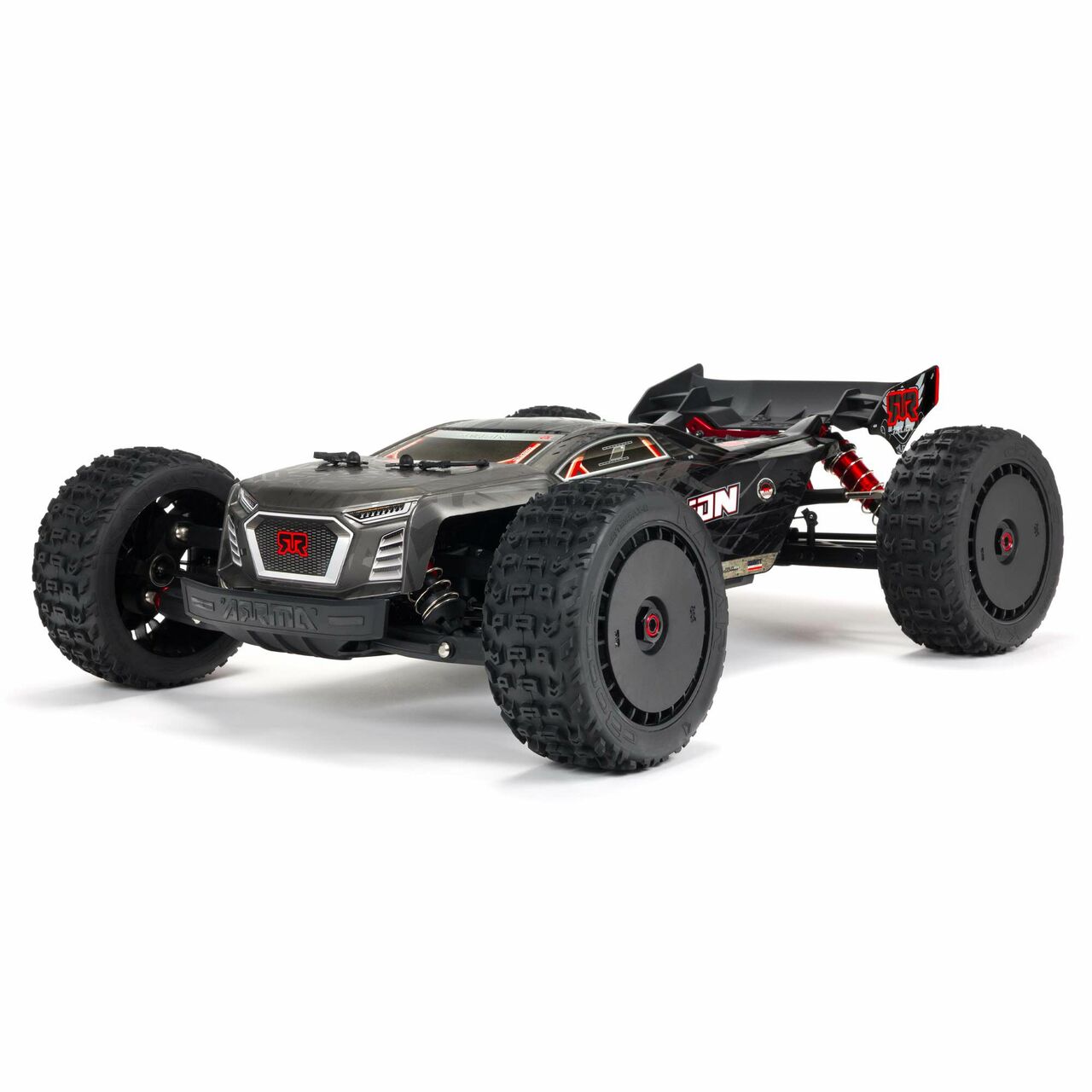 ---
Arrma Outcast 6S BLX Brushless RTR 1/8 Extreme Bash

Add to Cart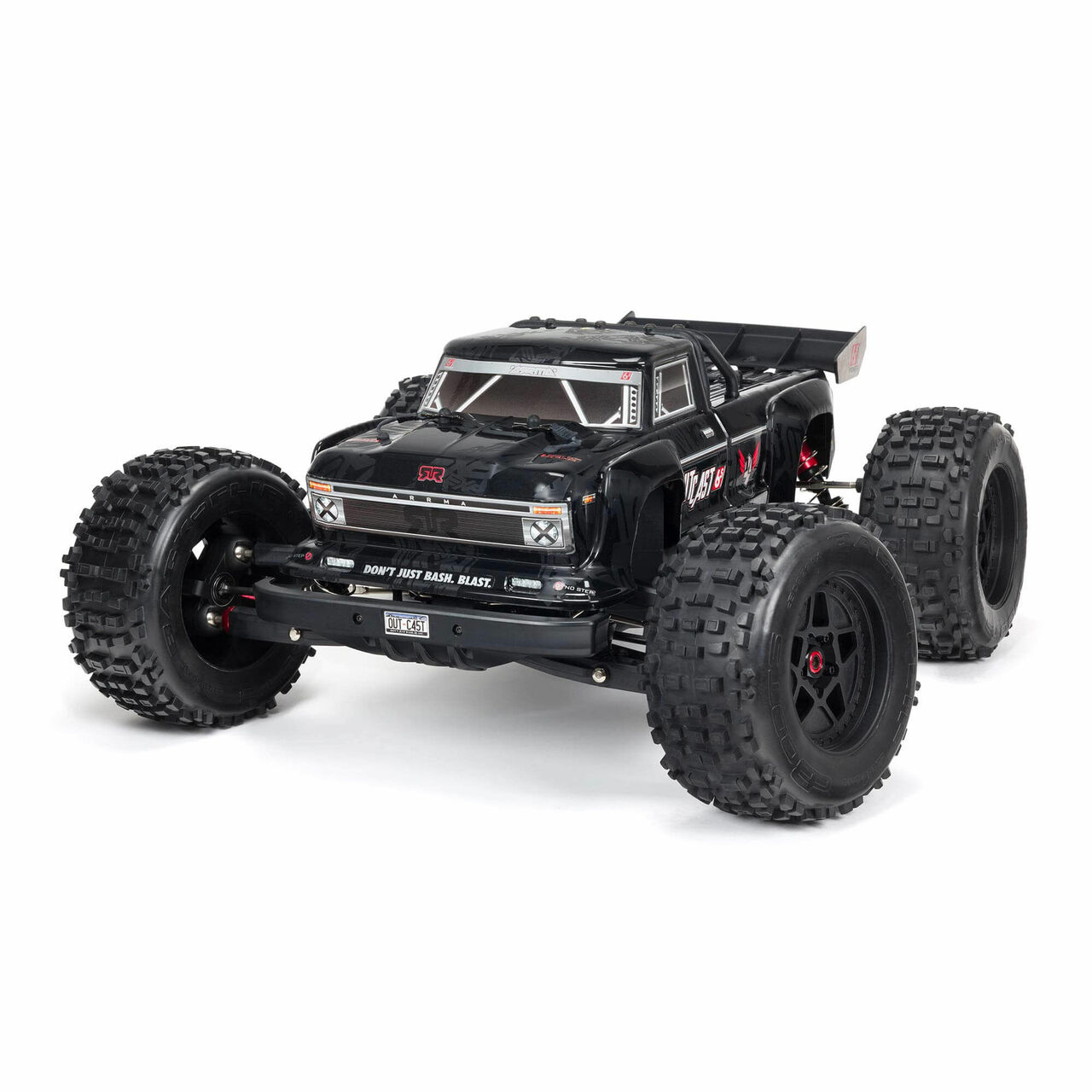 ---
The Arrma Outcast 6S BLX Extreme bash is made to hit crazy jumps, hit backflips and pop some crazy wheelies all while reaching speeds of 60 mph+! It has gotten the same Extreme Bash premium treatment as the Talion. Let's take a look at some of the features down below!
Features
EXB Anodized 7075 T6 aluminum laser-etched chassis plate
EXB Anodized 7075 T6 aluminum laser-etched front and rear shock towers
EXB Heavy-duty steel turnbuckles
EXB Anodized aluminum servo mount
Spektrum™ DX3 Smart DSMR® Radio and SR6110AT AVC® receiver
Spektrum™ Firma™ 150A Smart waterproof 4S/6S ESC
Spektrum™ SPMS651 metal-geared servo
Spektrum™ Firma™ 4074 2050Kv Brushless Motor
Spektrum™ S652 Steel-Geared waterproof digital servo
Tough stunt truck wheels and multi-terrain dBoots® Back-Flip tires
Steering system with stone clearance
ARRMA® motor heatsink
Wheelie bar
Large volume waterproof receiver box
Durable 37T 1.35 module metal differential gears and silicone O-rings
Castellated slipper pad and sliding gear mesh
Plastic locknut for slipper
2-Year limited warranty; see website support for details.
Ready to run right out of the box!
And many more!
Check out people giving the Talion and Outcast EXBs test runs:
RC DUDE81
Rich Duperbash