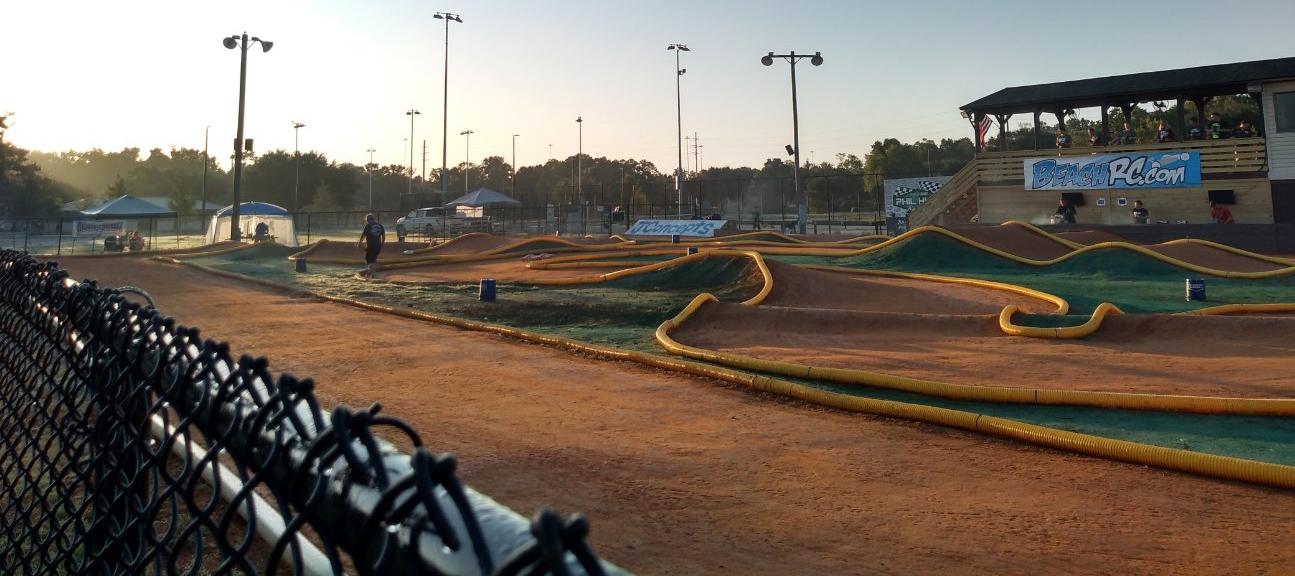 Mile log 2049. The white whale and I arrive at our temporary home for the next four days. We're in the historical city of Savanna, Georgia. I have a hard time saying this without some sort of southern twang. Welcome to Savanna ya'll! I love it.
We pull into a park that is beautiful to say the least. Lake Mayer Park is the name and inside this public land is a skate board park, tennis courts, basketball, and the oldest running R/C track in America. Phil Hurd Raceway would be the venue holding the Georgia State Championships for remote controlled off-road race cars. This track was built nearly thirty years ago and still remains on the same property today.
Rolling in with my Moby Dick in tow I am feeling pretty pumped. Racing at this track has always been on my bucket list and for the first time in a while I would have a person to pit and hang out with. I usually roll solo and grab any person I can sucker into helping me pit. Sleeping in the belly of the beast the trailer can be my home for a few days. This time, my buddy James, has a place for me to sleep and shower. I also thought he would be my company for the weekend but he said he didn't know how to party and there was no way possible he could hang out with the king of party and survive.
It takes a rare person to be able to hang with me so I hold no grudges. Some people just don't know how to party like I do.
Set up and ready for action I can only take in my surroundings. There is a huge lake or pond behind the trailer and a cool breeze flowing through the air. The track looks great and one could tell the amount of work that has been put into this thing. Built to accommodate 10th and 8th scale cars there was nothing to difficult about the track except keeping that corner speed.
Five different corners of the track had what I would call roller jumps. In other words they are jumps that have no landing so you roll over them or get very little air to maintain speed. These were easy and difficult at the same time. They also made for a very racy track.
Friday is the practice day and there I stay in my big fat bloated whale looking to sell some parts. I see some of my locals from the beach and they ask where they could set up camp. Pointing to the best view in the park I direct them to the spot right beside the beast. After some hesitation they decided to take advantage of the fastest and coolest spot there was to hang out. I have company after all.
This time I decide to actually practice because I wanted to be a state champion. Normally I just chill out and watch people destroy their cars but this time I wanted to actually try and see if I could compete with some of the best open drivers in the South East. Lap after lap I turn and tanks of fuel I burn. Rhythm was essential and my white ass had it. I felt like there was a chance to take home some hardware this weekend. I'm taking it serious this time.
Saturday rolls around and that means it's time to qualify. To qualify we race the clock for five minutes and we do this three times. We want to get as many laps as possible in these five minutes and that will determine which spot we start in the main event.
It was a tough choice for me to choose between racing against my peers in the 40 and over class or hashing it out in the open class with a bunch of hungry dogs. Normally I would choose the old man class but I saw the competition and realized that most of the old guys were pros. I guess Viagra is the fountain of youth these days.
Qualifying is on the way and it's anything goes. There was a bunch of fast guys in my class and the number one spot was up for grabs. Round one and I finish in the top five. I felt good and knew I had so much more to improve on. Second round happens and I'm hanging around the same spot with mistakes. "I can be so much faster!" I said to myself.
For the past eight months that I have been on the road I have also been testing and running a new brand of tires from Europe. They're called Pro Circuit and I think they are perfect for the Average Joe's like me. This means the non-sponsored guys that pay full retail prices for their tires. Beachrc.com carries three tread patterns and three compounds. At $45 for a set of four tires that are also mounted keeps everything real simple. A Joe like me can make one of these tires work on just about any track.
The trick to this particular track surface was to find a tire that would last a whole twenty-five minute main event and practically dumb down the grip enough to not roll over in the corners because traction was through the roof. I found the tire that would do this for my driving style and they were called Addictive. I now see why they're called that.
Final round time and there is some serious adrenaline flowing on this driver stand. I'm just chilling because I got this sweet ass shirt on and I'm about to smoke these fools. Off we go and my car is fast. I show my buddy James the back side of my car and then do a hard core traction roll into the fence with no marshal. Sitting there contemplating my mistake I see a gopher literally dig his way out of the ground and push my car back onto the track with his nose. Huh.
Figuring this will be the throw away round for myself I pull some laps until the announcer says there will be a restart of the race because the loop died. This loop just happens to keep track of all the timing and scoring for all the cars. No loop, no race. Huh?
About an hour and twenty minutes later we start the last race all over again. I don't know what happened honestly. I'm sure it was like a bunch of cars on the track racing a different surface, at a different time than all the other open drivers. Top qualifier was up for grabs. My main rival and good buddy Camden took that top spot all the way to the main event.
Time spent in this hobby has allowed me to watch the progress of drivers not only on the track but as people. The youth have all the advantages but us old guy's have all the money to buy this R/C stuff. We try to beat the young'uns when we can because it's only a matter of time before we can't.
It's Sunday and this is when we run the main events. This is what we all traveled many of miles for, spent many of dollars, and dedicated so much time to.
The whale has digested some of the food in it's belly because sales were good. This driver was feeling confident and pumped up! At no point was I the fastest guy on the track but in my mind I was already the Champ. Let's go!
Feeling refreshed and clean thanks to my buddy James' hospitality (even though he didn't want to pit with me) I was ready to take this victory to the house. I had a strategy, a game plan, and at least five beer's in my belly. It's go time!

Off we race and everything is going to plan. I place myself in a good position and relax. I need to follow the three cars in front of me for a couple laps. Sending the triple I see Camden. I give him a little bump just to say hi. It was the most innocent bump but it bent my front shock shaft. Grabbing a hand full of throttle I realize what had happened and spin around doing a few doughnuts. My race was over after four laps. I knew what had happened because I have bent these shafts before. They are soft and a known problem for the JQ car. The simple fix is to put shock shafts from a different brand called Mugen onto my car. So now I will be driving a JQugen I guess.
Later on someone asked me how I finished and I replied "I finished first," because technically I was the first to finish my race... four laps into it.
I got to watch my buddy Bubba race his ass off and take home a Championship. Racing with him most of the time that I've been in this hobby I have watched him grow as a racer, father, and human being. A better person could not have won this race and I felt so proud of him as did most of the people there.
It's not hard to fail and it's not easy to win. In motor sports there are a hundred things that could go wrong and it only takes one of them to end a race day. Comparatively, in order to win, nearly everything has to go right. At times my heart breaks and at others I celebrate but this time I celebrate for another. Bubba High, great race Georgia State Champ!
Until next time I'm your Average Joe RC